Continue Shopping
"Main Shaft Bearing and Seal Pack 80078" has been added to your basket.
Continue Shopping
"Alternator Bearing & Seal Pack 80060" has been added to your basket.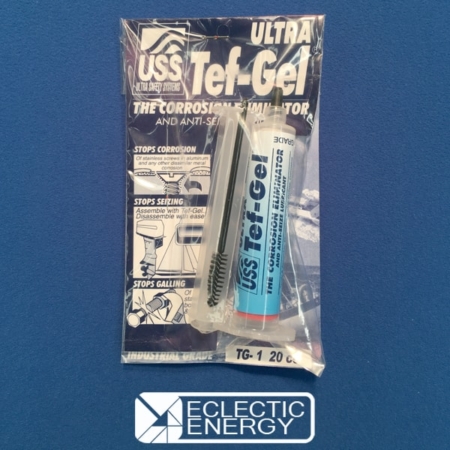 Tef-Gel 28g Syringe 40027
£18.09 Excluding VAT & Shipping
Tef-Gel is designed to perform in areas of Rust Prevention, Corrosion Elimination and as an Anti Seize Lubricant.
Tef-Gel was developed using aerospace industry experience; it will eliminate BLISTERING, CORROSION, RUST, GALLING and SEIZING of hardware in corrosive environments. It can be used in all weather conditions!
The amazing composition is derived from a specially formulated PTFE paste. Whether it swivels, slips or slides, Tef-Gel will protect and ensure the painless future removal of all assembled hardware.
Additional Information
| | |
| --- | --- |
| Weight | 2 kg |
| Dimensions | 21 x 21 x 21 cm |
Eclectic Office Opening Hours:
Mon-Fri: 10:00-17:00
Sat: closed
Sun: closed
Sales@eclectic-energy.co.uk
Tel: +44 (01623) 835400
Fax: +44 (01623) 860617


Eclectic Energy HQ
Unit 22 Sherwood Networkcentre
Sherwood Energy Village
Ollerton
Nottinghamshire, NG22 9FD
Company number 03883495
Place of registration: United Kingdom
Trading T&C / Privacy Policy